Daily Dog Walking
Many of our pet clients have parents who work outside of the home or have otherwise bu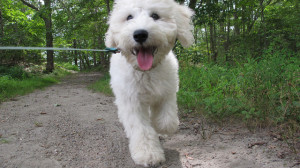 sy schedules. We are available to visit your dogs as often as needed during the day. It is very important and beneficial for your dog to have regular exercise. Like people, dogs require daily exercise and mental stimulation to stay healthy in body and mind. Fresh air and exercise do a doggie good!
On our private dog walks we provide one-on-one leash walking sessions in the areas of your preference, usually within your neighborhood. We understand that every dog has different needs, so the duration of the walk, the distance, and the pace of our exercise will vary to suit each of our clients. After our walk we change your animals' water, give them treats (if permitted), pets, and a good bye kiss!
Daily Dog Walking Pricing
We offer individual daily dog walks for the client that only occasionally requires our service. Our clients find comfort in knowing on the rare occasion they must be away a BCPS Dog Walker will be available to provide the exercise and care their dogs desire. Daily dog walking clients are invoiced at the beginning of each week; all others must pay in advance.
Dog Walking Packages
Our dog walking packages are designed for the working pet parent who works long hours or the busy family that just simply cannot find the time to exercise their dog on a regular basis. These packages come with a deep discount and flexible scheduling help fit the cost into today's increasingly tighter budgets. Walks do not expire.
(10) Dog Walk Package
(20) Dog Walk Packages
Additional Fees
Cancellation without notice (includes consultation)
Varies
Each additional pet (per visit)
$3.00
Holidays (per visit)
$6.00
Food & Supplies
Time + Cost of Supplies + $0.55/mile
Key pick-up / drop-off (consultation not included)
$10.00
Additional Keys (if not provided with two)
$5.00
* Customized service and pricing available.